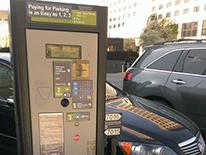 The Multimodal Value Pricing Pilot is using the Penn Quarter/Chinatown area as a laboratory to test state-of-the-art strategies to make it easier to find a parking space.
The project will accomplish this by doing the following:
(a) Provide real-time parking-availability information so customers spend less time searching, and
(b) Change parking pricing (both raising and lowering prices) so more spaces are available.
The parking management strategies will also be applied to delivery vehicles and inter-city buses in the Penn Quarter/Chinatown area.
Lessons learned from the pilot will help shape eventual deployment throughout the District.
Goal
A pilot that will move toward improving the parking experience around the Chinatown/Penn Quarter area.
Program at a Glance
Program Title: Multimodal Value Pricing Pilot for Metered Curbside Parking -- Penn Quarter/Chinatown
Agency: District Department of Transportation
Office: Traffic Operations Administration
Type: Planning and Strategy