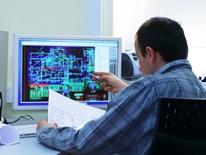 This manual presents the Computer-Aided Design (CAD) standards of the District Department of Transportation (DDOT). The documents, found below, are based on those of the Maryland State Highway Administration (MDSHA).
The manual is specifically written for MicroStation V8. It is hoped that the manual will serve as the single informational reference for the usage of MicroStation V8 at all DDOT offices and divisions. The manual also marks DDOT's migration to CAD for drafting and design, and specifically demonstrates a commitment to use MicroStation V8 and related engineering design add-ons and custom applications.
As long as the DDOT Standards and Workspace mirror the MDSHA Standards and Workspace, the District CAD Manual will be updated as major updates or changes occur in the Maryland CAD standards or workspace. The CAD manual and workspace might also be updated as major changes are introduced in MicroStation or Geopak, or as the need arises due to changing or unaddressed needs at DDOT. Updates will be performed by authorized personnel only. No part of the CAD Standards and Workspace, including cells, fonts, text sizes, etc. are to be revised without directions from the Chief Engineer or authorized representative.
Goals
To serve as the single information source related to the use of MicroStation V8 at DDOT for all offices and divisions by private developers.
Related Documents