ParkDC: Penn Quarter, Chinatown is a pilot program to provide real-time parking availability information and adjust on-street parking meter rates so more spaces are available. The following is a list of frequently asked questions.
Why are parking meter rates changing?
Meter rates are being adjusted to ensure that more on-street parking spaces are available by balancing parking demand across the pilot study area. Parking meter rates for blocks with high demand will likely increase while rates for blocks with low demand will likely decrease. The objective is to increase the availability of on-street parking and reduce occurrences of double-parking and "circling the block."
Where are meter rates changing?
All meters affected by the pilot are between 11th Street NW and 3rd Street NW and between H Street NW and E Street NW, outlined in red on the map below.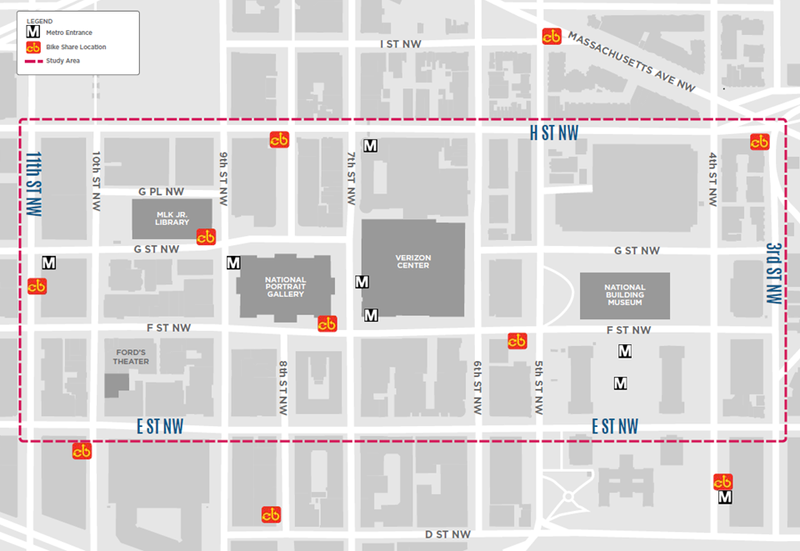 At what geographic level are the parking meter rates being adjusted?
Parking meter rates are being adjusted at the block face level, so all the spaces on one side of the street will have the same price on each block.
Does DDOT plan to expand this program?
DDOT will carefully evaluate the effectiveness of this pilot project. After conducting a thorough evaluation, including the collection of feedback from the public, DDOT will review items that are deemed cost effective and user-friendly and may apply them to other locations in the District.
How do you determine whether to raise or lower the parking meter rate?
Parking occupancy data gathered from in-ground sensors and payment transaction data, supplemented with historic usage data, is used to determine demand for parking along a particular block face. In areas with high demand, rates will rise. In areas with low demand, rates will lower.
When will the first rate adjustment take place?
The first meter rate adjustment went into effect Monday, October 17, 2016. The second rate adjustment occurred Monday, February 27, 2017. The third rate adjustment occurred Tuesday, May 30, 2017. The fourth rate adjustment occurred Monday, August 28, 2017. The fifth rate adjustment occurred Monday, November 6, 2017. The sixth rate adjustment occurred Tuesday, October 9, 2018. The seventh rate adjustment occurred Tuesday, January 22, 2019. The eighth rate adjustment occurred Thursday, August 1, 2019.
How often do parking rates change?
The parking meter rate is slated to be adjusted every three months.
How will I know when meter rates change?
All rate adjustments will be posted on the project website in advance of the change.
How will meter rate changes affect the rates at parking garages?
ParkDC: Penn Quarter/Chinatown has no control over the price to park in area parking garages. Any rate changes made in area parking garages will be at the discretion of the individual garage operator.
Will parking meter time limits also be affected?
Some time limits are affected. Starting mid-September 2017, time limits for the weekday evening period (4-10 pm) and Saturdays (all day) had been extended to 4 hours for the eastern part of the study area, from 3rd Street NW to 5th Street NW, E Street NW, and H Street NW.
Where does revenue from the project go?
Parking meter and ticket revenue cover the operating cost of the program and remaining revenue allocated toward WMATA.
Is it really safe to use my credit card at the meters?
Yes. Meters meet the Payment Card Industry's strict Data Security Standards. More information on these standards can be found on the PCI website.
How can I get parking information on my phone?
Parking information is available from two apps: parkDC and VoicePark. The parkDC app provides parking availability and rate information for on-street parking in the zone. On-street availability is shown using green, orange and red lines, which indicate low, medium or high numbers of spaces. Hourly prices are provided for each block. The parkDC app also provides location, daily rates and hours of operation for parking garages. To download parkDC, please visit iTunes or Google Play.
VoicePark delivers turn-by-turn guidance to available on-street or off-street parking in the zone area. The app shows the estimated number of available on-street spaces, along with hourly rates. VoicePark also provides location, daily rates and hours of operation for area parking garages.
How can I get parking information on my phone if I don't have an iPhone or Android?
Information regarding parking and payment will be displayed on parking meter decals as well as the meter start-up screen. The website and apps are coming soon. Parking information will also be available online at parkdc.dc.gov, which allows drivers to review parking availability and prices before making their trips.
Will the parking meter rate be the same all day?
Not necessarily. Pricing is set based on a time-of-day schedule similar to the Metro system. Parking meter rates during peak periods of parking demand will be higher than off-peak periods. On weekdays, there are three times: 7 am – 11 am, 11 am – 4 pm, and 4 pm – 10 pm. On Saturdays, the rates will be the same all day. The rate schedule will be updated every three months.
As part of the eighth pricing adjustment, parking meter rates on individual block faces will range from $1.00 per hour to $7.00 per hour on the 93 blocks located within the Penn Quarter and Chinatown neighborhoods. Prices on each block face for each period are shown in the figure below: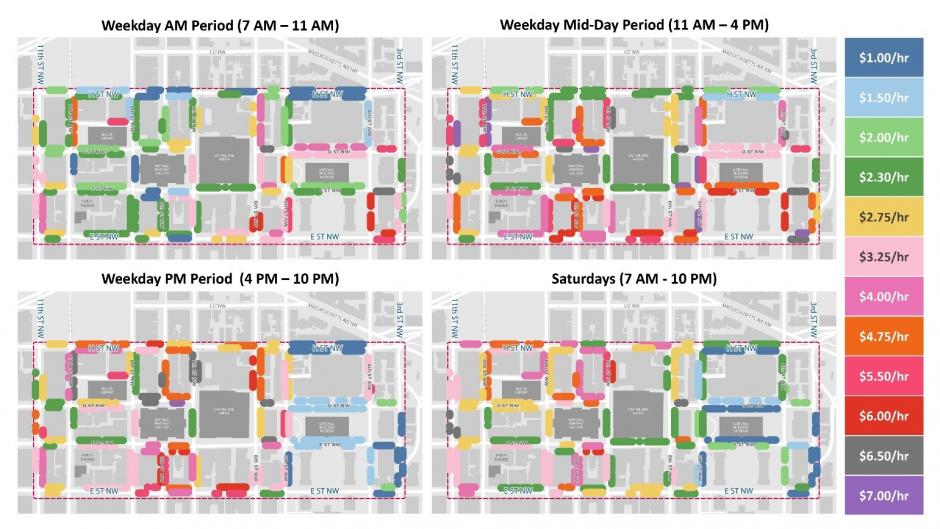 How much will I pay if my parking stay overlaps time periods?
You will pay for the amount of time you are parked in each time period. For example, if you are planning to park for two hours, with one hour in the morning period, and one hour during the midday period, you would pay for one hour at the morning period parking meter rate, and for one hour at the midday parking meter rate. The meter will calculate this prorated rate automatically during the payment process.
How will I know the meter rate of where I am going to park?
Meter rate information will be displayed on parking meter decals as well as the meter start-up screen based on time of day and block face. Meter rate information will also be available via mobile apps and the project website.
Will I know exactly which spaces are available?
Parking availability information will be displayed at a block face level only to minimize capital expenses associated with installing parking occupancy sensor equipment.
Do I still have to return to my car to display a receipt from the parking meter?
No, in the pilot area you do not need to display a receipt in your window. You can pay by either entering the parking space and zone number at a multi-space parking meter or by entering the information in your ParkMobile smartphone app.
How will I know my parking space number?
Poles marking the space numbers are placed on blocks with multi-space meters. For single spaces meters, a sticker has been placed on the meter.