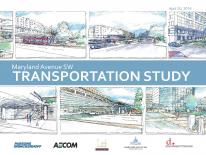 The District Department of Transportation is leading a planning study to determine the multi-modal impacts of creating a new Maryland Avenue, SW between 7th Street, SW and 12th Street, SW. At present, the Maryland Avenue, SW right of way is occupied by a rail corridor that carries traffic from CSX Transportation, Amtrak and Virginia Railway Express. The purpose of this project is to study the impacts of three potential configurations of a potential Maryland Avenue connection in the future.

The project includes a multi-modal analysis (for rail, buses, vehicles, bicycles and pedestrians) along the Maryland Avenue corridor. Currently, the right of way associated with Maryland Avenue is owned by five entities, and the planning area includes one of the most complicated infrastructure arrangements in the District. The transportation infrastructure alone consists of two Metrorail lines, three CSX tracks providing freight and commuter rail services, an interstate ramp, multiple District streets above and below grade, and a potential future streetcar alignment.
For more information on the study, or to comment on the options that have been developed, contact project manager Shannon Hake at [email protected] or (202) 671-1598.