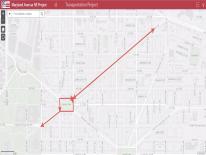 Maryland Avenue NE Project
The Maryland Avenue NE project will improve safety and access for bikes, pedestrians, and cars on the corridor between 2nd Street and 14th Street NE. The project includes new lighting, traffic signals, high visibility crosswalks, traffic calming, shorter crossing distances for pedestrians and new bike lanes. DDOT anticipates the project will be complete by June 2021. We expect construction to begin in the next four to six weeks. During that time DDOT will work with the contractor to finalize the construction schedule, determine impacts to the residents and traffic patterns, and then communicate this information publicly before construction begins.
BACKGROUND
Residents along the Maryland Avenue NE corridor have advocated for safety improvements for many years. Concerns about high speeds and uncontrolled pedestrian crossings, particularly those near public institutions such as NE Library (MD & 7th), School within School (near MD & 10th) have been the primary concerns. Once complete, the project will improve multi-modal safety and access on the Maryland Avenue, NE corridor from 2nd to 14th Street by calming travel speeds and turning speeds, shortening pedestrian crossing distances, providing pedestrian refuge islands, and providing new bicycle facilities.
Maryland Avenue NE is a Minor Arterial roadway that connects from the "Starburst" (15th/Benning/Bladensburg) intersection to the US Supreme Court. It carries roughly 11,000 vehicles per day. Both ANC 6A and ANC 6C passed resolutions supporting the roadway reconfiguration. Maryland Avenue NE is an example of the "road diet" approach to transportation safety. After an analysis of crashes, motor-vehicle speeds, adjacent land uses, and multimodal travel along the corridor, and extensive community involvement, this recommended change in roadway configuration will reduce severe crashes, injuries, and fatalities on this corridor. FHWA studies of Road Diet conversions have found that they reduce overall crashes by 17-47%.
We use an approach that relies on engineering techniques to achieve our Vision Zero goals to prevent deaths and serious injuries to travelers of our transportation system. Features such as a center median, new signal timing, and reallocation of travel lanes encourage people to travel more safely. Additional public space amenities such as street trees and new plazas for the gathering will signal to travelers that the area is a residential area with nearby schools, libraries, and businesses that attract vulnerable users such as pedestrians and bicyclists.
The Maryland Avenue Project study recommended, and the community advocated for, a new traffic signal at 10th and Maryland, in large measure to serve the students accessing School-within-School @ Goding at 10th and F Streets NE. A signal warrant study was completed in early 2015 and the signal was installed in October 2015. This coincided with the removal of the traffic signal at E Street and Maryland Avenue and the conversion of the 800 blocks of E Street from two-way to one-way westbound. These changes have contributed to safer traffic and pedestrian conditions. These changes move us toward our Vision Zero goals of zero death or serious injuries on our transportation network.
This project is scheduled for completion in June 2021.