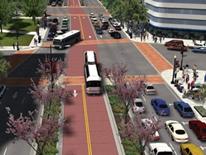 K Street Reconstruction and Revitalization is an exciting project that would reconfigure one of the District's major east-west corridors, K Street, NW, with vast improvements to benefit mass transit passengers, pedestrians, cyclists and motorists.
The District Department of Transportation (DDOT) is working very closely with the Federal Highway Administration (FHWA) to identify ways to efficiently accommodate multimodal travel and an exclusive transitway within the existing street right of way. This project has been historically referred to as the K Street Transitway.
Project History
The current infrastructure of K Street is approximately 30 years old. The pavement and crosswalks have deteriorated and are in poor condition. The corridor's service lanes are an inefficient use of right of way that lead to severe traffic congestion and encourages parking violations. The combination of the corridor's geometry and typical traffic congestion results in significant vehicle-pedestrian conflicts and pedestrian safety issues.
In addition, the buses on K Street, currently operating in mixed traffic, travel at slow speeds and have difficulty maintaining schedules because of the traffic congestion and common parking violations. Routes and schedules are difficult to understand, especially for tourists and infrequent riders, and bus stops are poorly located, lack amenities and do not provide adequate pedestrian access.
Project Area
The project study area* extends from Mt. Vernon Square (7th Street) in the east to Washington Circle (24th Street) in the west, L Street to the north and I (Eye) Street to the south. The study area is based on the limits of substantial urban design and operational deficiencies along K Street. Beyond Mt. Vernon Square and Washington Circle, these deficiencies are not evident and traffic is dispersed to other destinations in the city.
Milestones
The genesis for the transformation contemplated today was the K Street Transitway Study. Consultants completed the final report, which outlined alternative configurations along the K Street corridor, in May 2005. The report identified and analyzed three feasible alignments: two median running dedicated transit ways and one curb running bus lane.
In 2009, DDOT completed an Environmental Assessment (EA) of the various alternatives. Following the release of the Draft EA and a public comment period, DDOT identified Alternative 2, the Two-Lane Transitway, as the Preferred Alternative. Alternative 2 would provide an exclusive two-way, two-lane median transitway between 20th Street and 9th Street. Alternative 2 would also include two 10-foot general purpose travel lanes and one 12-foot travel/off-peak parking lane in each direction on K Street between 20th Street and 12th Street.
Subsequently, the Federal Highway Administration (FHWA) issued a Finding of No Significant Impact (FONSI). The FHWA determined that the Preferred Alternative/Alternative 2, "will not have a significant impact on the natural, human or built environment."
Detailed design plans have been developed and were finalized in February 2010. Information about the design work is available online at www.kstreetreconstruction.com.
In September 2009, DDOT submitted an application to receive Federal Stimulus money to fund K Street Reconstruction and Revitalization. The recipients of the funding will be announced in February 2010.
Goals
To reconfigure the K Street, NW corridor to make more efficient and effective use of the right of way for multimodal travel.
Program at a Glance
Program Title: K Street Reconstruction and Revitalization
Agency: District Department of Transportation
Type: Planning and Strategy
Related Document