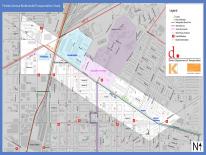 Over several years, the District Department of Transportation (DDOT) has made many adjustments to and studied major capital improvements for the intersection of Florida Ave NE, New York Ave NE, First Street NE, and Eckington Place NE. Colloquially, the intersection is sometimes known as the "Virtual Circle," in reference to the intersection design installed by DDOT in 2010, or "Dave Thomas Circle," in reference to the Wendy's restaurant located at the center of the intersection.

A combination of unusual geometry, turning movements, closely spaced intersections, and high traffic volumes have created safety and operational issues. With the arrival of the NoMa/Gallaudet Metro station, the addition of the U.S. Bureau of Alcohol, Tobacco, and Firearms (ATF) building, and the continued growth of the NoMa area, the concerns for pedestrian and bicyclist safety have increased. DDOT is pursuing a new intersection design that would realign First Street, restore two-way traffic on Florida Avenue, and make other improvements to the safety and legibility for all modes.

For more information about this project, please visit www.floridaaveproject.com.
From Concept to Preliminary Design: In Spring 2019, DDOT is building upon previous studies, data collection, and community engagement and is completing necessary environmental review. DDOT is reviewing "Concept 6" and making refinements in the preliminary design process, with special attention paid to safe pedestrian crossings and bicycle facilities.
Open House: DDOT invited the community to an Open House on Monday, April 29, 2019, to discuss the Florida Ave and New York Ave NE Intersection Project. The open house was held in the ground floor lobby of the NoMa BID, 1200 First Street NE from 6:30 p.m. – 8:00 p.m.
Public Comment: DDOT will be welcoming public comments to be included in the NEPA document.
Additional Engagement: DDOT anticipates hosting the next community meeting in late June 2019, followed by additional engagement throughout the design and construction phases.
Florida Ave from 2nd Street to H Street NE
Safety and operational improvements from 2nd Street NE to 14th Street NE, including widened sidewalks and protected bike lanes from 2nd Street NE to West Virginia Ave NE.