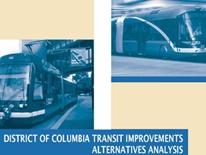 The District of Columbia Alternatives Analysis (DCAA), commonly referred to as "DC's Transit Future", is a comprehensive evaluation of surface transportation alternatives to meet the intra-city access and mobility needs of District residents, employees and visitors over the next 25 years.
The original study was conducted from 2003–2005 by District Department of Transportation in partnership with the Washington Metropolitan Area Transit Authority (WMATA), and after an intensive 18-month public engagement process the DCAA identified a network of efficient, high-capacity surface transit for the District of Columbia.
Goals
To improve access to the regional Metrorail system.

To improve transit movement across and between neighborhoods.

To identify areas in need of additional transit options.
Program at a Glance
Program Title: The District of Columbia Alternative Analysis (DCAA)
Agency: District Department of Transportation
Type: Planning and Strategy
Related Documents