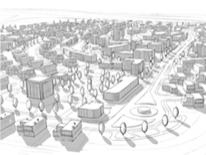 The mission of the Development Review Branch is to examine transportation projects, developer and zoning plans to ensure they are consistent with, and do not adversely impact, DDOT's multimodal strategic objectives and the Transportation Element of the Comprehensive Plan. The Development Review Branch accomplishes this by doing the following:
Convening and guiding a structured review process for evaluating transportation impacts;
Providing and administering policy framework; and
Providing consistent public space policy guidance.

Focuses on 10 Key Areas
To deliver its mission, the Development Review Branch has adopted a framework for managing development reviews in a standardized format, which focuses on 10 key areas.
Strategic Elements
Roadway Capacity and Operations
Bicycle and Pedestrian Network
Site Access and Loading
Safety
Parking
General Streetscape and Public Space/Realm
Transit Service
Transportation Demand Management
Performance Monitoring and Measurement
Review Process
The Development Review Branch requires a majority of applicants to complete a scoping review and a Comprehensive Transportation Review (CTR).
To begin your application by requesting a pre-process scoping review meeting or a follow-up meeting, please send an e-mail to

[email protected]

.
To view our scoping guidelines please see the CTR document
For a step-by-step chart of the Development Review process see the
DDOT Development Review Process Flow Chart
Policy Compendium
For a listing of DDOT's policies and practices, please see the Policy Compendium
Frequently Asked Questions