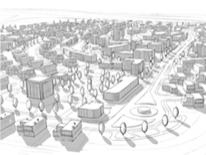 DDOT is committed to achieve an exceptional quality of life in the nation's capital by encouraging sustainable travel practices, safe streets, and outstanding access to goods and services. As one means to achieve this mission, DDOT, through its Development Review team within the Neighborhood Planning Branch in the Planning and Sustainability Division (PSD), evaluates the impact of certain development actions on the District's multimodal transportation network.
These actions may include land development-related activities such as:
Zoning cases (i.e., Zoning Commission or Board of Zoning Adjustment);
Public space permits (e.g., permitting curb cuts, building projections, café patios);
Large Tract Reviews (LTR);
Building Permits (also known as an Environmental Impact Screening Form)
Requests for operations and infrastructure changes to the transportation network; and
Street and alley closings.
The Development Review team's role is advisory; it does not make a decision on any action it reviews. Rather, the Development Review team manages the Agency review process for relevant actions so that informed, well-reasoned recommendations are made to the appropriate zoning, permitting, or reviewing bodies.
Actions Triggering Review
Several types of actions trigger a regulatory, permitting, or environmental review by DDOT. The goal of these reviews is to ensure that any potential impacts are identified and appropriately mitigated in a manner consistent with DDOT standards, policies, and practices. Applicants complete a Comprehensive Transportation Review (CTR) in coordination with DDOT staff based on an agreed to scope to determine and document the impacts of the proposed action.
Broader analysis, direction, and CTR study requirements for each type of case are provided in the Guidance for Comprehensive Transportation Review.
DDOT performs evaluations based on the CTR findings and makes recommendations on the actions in accordance with Title 11 (Zoning), Title 12A (Building Code), and Title 24 (Public Space and Safety) of the District of Columbia Municipal Regulations (DCMR), as well as the DDOT Design and Engineering Manual (DEM), the Public Realm Design Manual, and DDOT policies and plans.
Review Process
The Development Review team requires a majority of applicants to complete a Scoping Form to establish the parameters of a Comprehensive Transportation Review (CTR).
To schedule a pre-process scoping review meeting, please send an e-mail to [email protected].
To view our scoping guidelines, please see the CTR document.
For a step-by-step chart of the Development Review process, please see the DDOT Development Review Process Flow Chart.
Policy Compendium
For a listing of DDOT's policies and practices, please see the Policy Compendium.
DDOT Development Review - FAQs
DDOT Development Review - FAQs
Please review the frequently asked questions about the Development Review process.
What are the key steps that I will need to complete while participating in the Development Review process?
Contact the Development Review Branch and schedule a pre-process scoping meeting.

Please download the CTR [PDF] document.

Submit proposed scoping form.

Obtain DDOT approval for scoping form.

Coordinate with assigned case manager regarding schedule, task, milestones, etc.

Submit final CTR Report at least 45 days before the Case Hearing.

Receive final approval from the Zoning Body.

Obtain EISF approval as necessary.

Apply for relevant permits and participate in the PDRM process.

Participate in the Public Space Committee process as necessary.

Report on Performance Monitoring as necessary.
When and where is the initial applicant meeting and scoping meetings held?
Meetings are held during normal business hours at DDOT headquarters, 55 M Street, SE.
Scoping meetings can be scheduled anytime, but are encouraged prior to filing for a hearing or shortly thereafter.
How to schedule an initial meeting or scoping meeting?
Scoping meetings can be scheduled with the Development Review team by e-mailing [email protected].
What is the applicant required to provide at the Pre-Process meetings?
The Applicant will be asked to discuss the proposed development program (e.g. no. of units, SF of retail, etc.) as well as a general concept of how the site will be utilized and how it may interact with the public space.
Proposed site plan and use(s)

Proposed travel demand/trip generation

Proposed study area

Proposed data collection plan
When and where are Zoning Hearings held?
Zoning Commission (ZC) and Board of Zoning Adjustment (BZA) cases are held at 441 4th Street, NW, 2nd floor, adjacent to the Judiciary Square Metro Station 6.
What does the Development Review Case Manager do?
Analyze final CTR in accordance with the agreed-upon scope and DDOT policy, DC regulations, and identified best practices.

Facilitate DDOT stakeholder review and input regarding the scope of an Applicant's CTR.

Review the application for completeness

Provide testimony on behalf of DDOT in front of the Zoning Commission and Board of Zoning Adjustment.

Write a report to the respective zoning authority detailing the impacts of the applicant's proposed development on the Districts transportation network.
How much does this review cost?
At this time, the review is done by DDOT at no cost to the applicant.
Why do I need a review?
The CTR is the critical component in DDOT's review of the site's impact on the transportation network.
What are the triggers to initiate a CTR?
There are general guidelines that trigger a CTR. Generally, if a development generates 25 or more vehicle trips in the peak direction during peak periods a CTR is triggered. In addition, there are triggers within the CTR's ten key categories that detail the depth of analysis required. Please download the CTR [PDF] document.
How to initiate an alley or street closure?
Contact the Office of the Surveyor in the Department of Consumer and Regulatory Affairs.