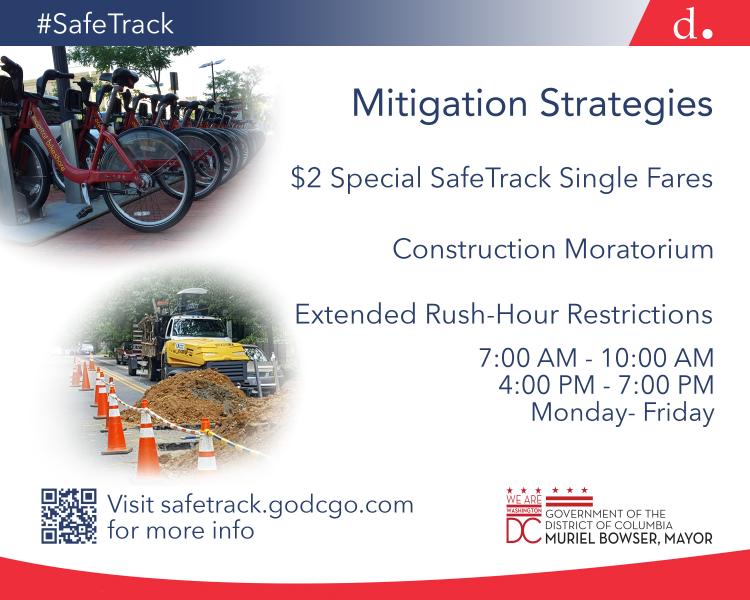 In May 2016, the Washington Metropolitan Transit Authority announced SafeTrack, a plan for expanded track work designed to improve Metrorail's safety and restore service reliability.
Over the two-year cycle, the plan outlines actions intended to accelerate maintenance on Metro's rail system. Some actions require closure of the system at midnight on weekends and expansion of weekday maintenance opportunities. According to WMATA, the SafeTrack plan will accomplish more work in one year that would have taken three years to complete.
WMATA Press Release for Surge 16 (last one)
WMATA's SafeTrack Brochure
For additional information, visit wmata.com/safetrack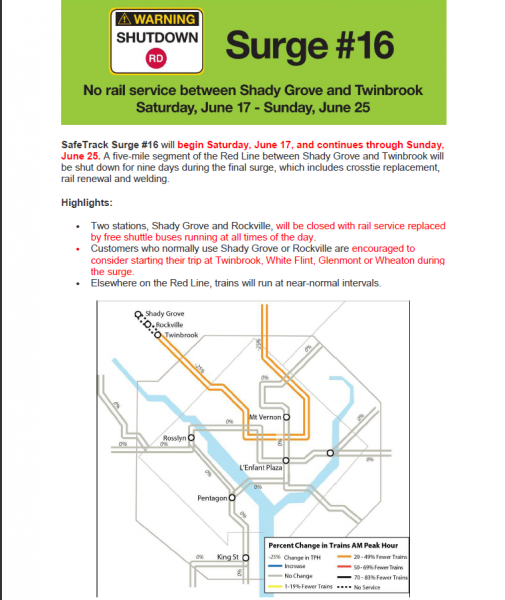 DDOT's Transit Options
Commuters are encouraged to visit goDCgo to learn about transportation options during SafeTrack.
During this time, DDOT will use its vast resources to help mitigate some of the impacts of the SafeTrack plan; and to help residents, workers and visitors to efficiently and affordably move around the District. DDOT can do any of the following: adjust signal timing, deploy traffic control officers, increase service of DDOT's transit services, lift or impose parking restrictions, open additional lanes and lift construction permits temporarily.
DDOT will examine every resource available to mitigate traffic impacts. Our goal is to keep the transportation network flowing especially along high-priority corridors
Commuters are encouraged to look out for these temporary signs, which show extended rush hours on the high-priority corridors.
Commuters are also reminded to consider other transit options. More information can be found about each one at this link.
What is DDOT Doing?
During the SafeTrack implementation, DDOT will announce the changes for each Surge.
Visit goDCgo for more transit options.
WMATA will have several shuttle routes.
See FAQs on SafeTrack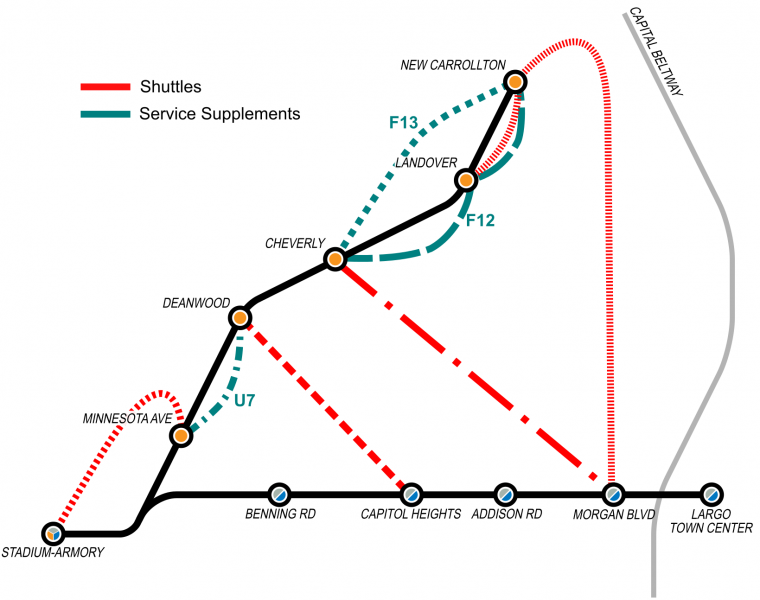 Additional information on On-Street Carsharing and Mass Transit in the District of Columbia.
Parking map for RFK Stadium
See the GIS Map with locations for parking. To see the parking info, open the map and click on any blue parking icon.