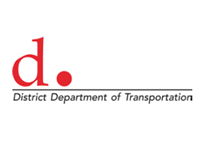 Mission
Enhance the quality of life for District residents and visitors by ensuring that people, goods, and information move efficiently and safely, with minimal adverse impact on residents and the environment.
Vision
The District Department of Transportation (DDOT) is committed to achieving an exceptional quality of life in the nation's capital through more sustainable travel practices, safer streets and outstanding access to goods and services. Central to this vision is improving energy efficiency and modern mobility by providing next generation alternatives to single occupancy driving in the city.
10 Years of Excellence and Accomplishments
Annual Report
Action Agenda
Originally released in early 2010, it focuses on these core values and functions:
Safety

Sustainability

Maintenance and investment in capital assets

Identifying prosperous places

Investing in the DDOT workforce
DDOT Compendium
The
DDOT Compendium
is a tool that provides comprehensive information about DDOT policies, procedures, and services in an online, searchable format. The Compendium contains a variety of documents and reference materials—ranging from regulations, federal legislation, and transportation studies, to FAQs—organized by topic into summary pages that provide links to related documents and references.
Access the compendium here
.