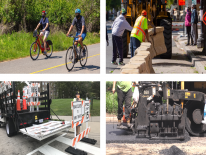 Three Car Free Lanes in high-traffic corridors support improved efficiency in bus travel and create space for bicyclists, particularly as the region returns to work following the COVID-19 public health emergency.
---
In June 2020 Mayor Muriel Bowser announced the first seven locations for the new Slow Streets initiative, which will give residents more space to social distance while moving around outside.
---
As part of the District's Phase One reopening, restaurants may open outdoor seating with physical distancing and safeguards measures.
---
The District Department of Transportation (DDOT) will temporarily extend sidewalks near grocery stores and other essential retailers to allow pedestrians enough space to practice social distancing during the coronavirus (COVID-19) public health emergency. Sidewalk extensions will be located in all eight wards of the District, based upon DDOT's evaluation and suggestions from the public.
---
Temporary permits for Restaurant Pick-Up Drop-Off (PUDO) Zones are now available and allow residents and commercial drivers easy access to restaurants and eateries that are still offering delivery or carry out service during Mayor Bowser's declared public health emergency.
---
Guide to attending virtual public meetings hosted by the District Department of Transportation (DDOT) using the Microsoft Teams application.