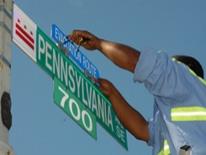 District Department of Transportation plays a key role in helping the District and its residents prepare for emergencies including events or threats that might require the evacuation of the city. Working together, the department and its regional partners have identified nineteen (19) corridors radiating from downtown Washington as emergency event/evacuation routes. Each of the routes extends to the Capital Beltway (I-495) and beyond and are marked with blue "Eevacuation Route" signs.

If you live or work in the District, please note that Pennsylvania Avenue, NW, between Rock Creek Park and the US Capitol, serves as the dividing line for egress routes. If an evacuation is ordered, motorists north of Pennsylvania Avenue will be directed North, East, and West on radial evacuation routes; motorists south of Pennsylvania Avenue will be directed South, East, and West on radial evacuation routes. None of the evacuation routes cross and no vehicles will be permitted to cross Pennsylvania Avenue during an emergency evacuation.

During a major event or emergency situation, radial evacuation routes featuring traffic signals will be re-timed. Selected traffic signals on each radial corridor will be re-calibrated to operate on a cycle length of 240 seconds (4 minutes) with maximum green time allocated to the main street. Signalized intersections between these selected traffic signals will be operated on flash with yellow for the main street and red for the side street. In addition, some intersections on the evacuation routes within Washington, DC will be manned with uniformed police officers to expedite the flow of traffic and to prevent bottlenecks.
Goal
Provide critical traffic related information for residents in case of an emergency or evacuation.
Program at a Glance
Program Title: Emergency Preparedness
Agency: District Department of Transportation
Office: Emergency Preparedness
Type: Planning and Strategy
Phone: 311
Related Documents