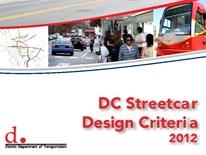 The District Department of Transportation (DDOT) has developed the DC Streetcar Design Criteria and Standard Drawings. These documents provide a general framework and the basis for a uniform design for the proposed DC streetcar system. These guidelines will allow DDOT, agencies, consultants, planners, engineers and other professionals to develop preliminary and final designs for any streetcar project that might be undertaken by the District of Columbia.
Professionals involved in the DC streetcar program are encouraged to carefully consider the principles of the Design Criteria in the context of the needs of individual projects. Exceptions may apply in special cases. This manual will require future amendments and revisions to reflect policy changes, technology changes, streetcar vehicle types, and other technical changes.
The DC Streetcar Design Criteria should be viewed as a "living document," which is subject to change or revisions as we continue to work towards our goal to implement a successful extensive streetcar system in the city.
Goals
To provide guidelines for the planning, design, and construction of streetcar infrastructure, and best practices for multi-modal corridors.
To serve as a reference for accommodating streetcar infrastructure in advanced road reconstruction and development across the city.
To identify and resolve possible utility conflicts early on and facilitate construction and the start of revenue operation.
To maintain consistency in design between proposed streetcar routes.
Related Documents