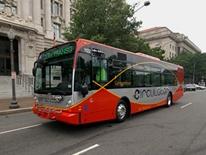 The DC Circulator's distinct red buses are unlike any other public transit around town - with low floors, big windows, and multiple doors for easy on-and-off service. Also, passengers don't need a bus schedule.
The Circulator comes every 10 minutes and each ride only costs $1.
Metrorail riders using SmartTrip cards are also eligible for discounted transfer fares.
The DC Circulator is the product of a unique public/private partnership between the District Department of Transportation, Washington Metropolitan Area Transit Authority, and DC Surface Transit, Inc. The idea for a quick, efficient, low-cost, public-transit system originated in the National Capital Planning Commission's 1997 "Extending the Legacy - Planning America's Capital for the 21st Century" vision for the District. The Downtown Business Improvement District was an early champion of its implementation.
Now, more than a decade later, the DC Circulator is expanding to link cultural, entertainment and business destinations within the city's central core and District neighborhoods. Two new routes were added in March 2009. The National Mall route was added in 2015. Now, there are six Circulator routes in all and this dynamic transit system promotes ease of movement in our world-class capital city and complements Metro's transit services throughout the region.
Public Meetings
The public can learn about DC Circulator's public meetings on the Circulator's
website,
or visit DDOT's
events
page.

The Brand
Hours of Operation: 6 am-7 pm (Monday through Friday)*
High Frequency and Limited Stops: Short wait time - 10 minutes between buses; only 3-4 stops per mile
Fare: Regular - $1.00; Senior/Disabled - $0.50
High-Quality Service: Friendly and Reliable
Comfortable: Buses are clean and well maintained
* Union Station-Navy Yard—East of the River Extension
Union Station-Navy Yard - East of the River Extension
Roundtrip Route Length: ~16 miles
Metrorail Stations Served: Anacostia (Green), Navy Yard (Green), Eastern Market (Blue/ Orange)
Union Station (Red)
Buses Required for Service: 12 (6 for existing Navy Yard-Union Station route, 6 for East of the River Extension)
East of the River Stops
Congress Heights Metrorail Station
Alabama Avenue, SE and Stanton Road, SE (Giant Food)
Alabama Avenue SE and 22nd Street SE
Alabama Avenue SE and Naylor Road SE (shopping center)
Good Hope Road SE and Woodmont Street SE (residences)
Good Hope Road SE and 18th Street SE (Anacostia Library)
Martin Luther King Jr. Avenue SE and Good Hope Road SE
Martin Luther King Jr. Avenue, SE and V Street SE (The Big Chair)
Anacostia Metrorail Station (on Howard Road, SE)
N Street SE, and South Capitol Street SE
Navy Yard Metrorail Station
Fares
Regular - $1.00
Senior/ Disabled - $0.50
DC Students (elementary through high school) - Free with DC Student Travel Card
Children Under 5 - Free with paying adult rider
Transfers
The Circulator uses a paperless transfer system - if you pay your fare with a SmarTrip card, you'll automatically receive the following discounted fares when transferring:
From Metrobus/Circulator (within 2 hours) - Free
From Metrorail - $0.50
From Metrorail (Senior/Disabled) - Free
Contact Information
Circe Torruellas
Citywide Planner- DC Circulator
Progressive Transportation Services Division
(202) 673-1728
Email: [email protected]
Route maps and other service information are located at DCCirculator.com.
Goals
To help residents, workers and visitors move about the nation's capital.
Program at a Glance
Program Title: DC Circulator
Agency: District Department of Transportation
Office: Transit Delivery Division (TDD)
Type: Planning and Strategy
Website: DC Circulator
Related Documents
The 2019 Federal Transit Administration Title IV Program Update
The 2017 DC Circulator Transit Development Plan Update
The 2014 DC Circulator Transit Development Plan Update
Public Meetings