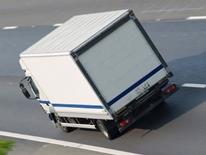 The District Department of Transportation's mission is to ensure efficient and safe mobility of commercial vehicles traveling in the District of Columbia, while mitigating community impacts and preserving transportation infrastructure. Commercial vehicles are essential to the District of Columbia, providing goods and services to thousands of District residents and businesses every day.
The city's diverse mixture of land uses, dense urban environment and extensive transportation infrastructure require a distinct set of rules and regulations to govern the operation of trucks and commercial vehicles - parking and traveling within the District may be subject to special permitting and restrictions for such vehicles. In order for this system to function efficiently, it is important that drivers observe these rules and regulations.
If you have any questions or concerns regarding truck and commercial vehicle operation in the District of Columbia please contact the Motor Carrier Division at (202) 671-0682.
Goals
To provide information for commercial vehicles operating in the District.
Program at a Glance
Program Title: Commercial Vehicles
Agency: District Department of Transportation
Office: Policy, Planning and Sustainability Administration (PPSA)
Type: Planning and Strategy
Related Information
Related Documents