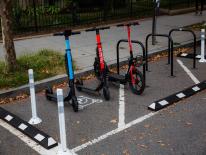 Bike and Scooter Corrals
Over 5 million dockless bike and scooter trips were taken in 2019. To support this growing transit option, DDOT is installing bike and scooter corrals across the District.


These corrals are public amenities available for both private vehicles and dockless shared fleets. Please be on the look-out for these in your neighborhood! If you would like to suggest more locations, please enter the location here.

Interactive Map

Safety
DDOT is specifically targeting locations where we can make a difference by "daylighting" intersections for pedestrian safety. Parking is not permitted within 25 feet of an intersection, and oftentimes illegal parking can limit visibility for pedestrians and drivers. Installing corrals at these locations provides both needed parking infrastructure for dockless vehicles and also prevents dangerous illegal car parking.

Better Parking Behavior
On sidewalks, scooters are intended to be parked in the "furniture zone" which is within the first five feet of the curb, where typically you may find a bench or a tree. Current guidelines ask for all scooters to be parked with one wheel on the curb to allow for the greatest amount of space for pedestrian passage. Creating alternatives to the sidewalk, specifically in residential neighborhoods where the sidewalks may not be as wide, will allow for ease when parking vehicles. Providing space in the roadway for bikes and scooters will allow for more bikes and scooters to be parked.

Goal
To increase the availability of convenient bicycle and scooter parking facilities, increase pedestrian safety, and support alternative transportation ridership.