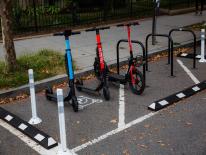 Bike and Scooter Corrals
Over 5 million dockless bike and scooter trips were taken in 2019. To support this growing transit option, DDOT is installing bike and scooter corrals across the District.
The off-sidewalk parking corrals are available for private and shared dockless bikes and scooters. Residents can submit a request for off-sidewalk parking corrals through 311.
Questions? Please contact the appropriate DDOT Community Engagement Specialist.

Safety
DDOT is specifically targeting locations where we can make a difference by "daylighting" intersections for pedestrian safety. On District streets where parking is allowed, drivers should generally park no closer than 40 feet from the intersection, unless there is signage indicating otherwise. Where a street has parking signage, all drivers must obey the signs and avoid parking in "no parking" or "no standing" zones approaching intersections.  Installing corrals at these locations provides both needed parking infrastructure for dockless vehicles and also prevents dangerous illegal car parking.
Better Parking Behavior
In corridors where there are no off-sidewalk parking corrals, scooters should be parked in the "furniture zone" which is within the first five feet of the curb, where there are typically public benches or street trees. Current guidelines require scooters to be parked with one wheel on the curb to allow for the greatest amount of space for pedestrian passage. This is critical to pedestrian safety in residential neighborhoods where sidewalks may be narrower. More information about how to properly park a dockless bike or scooter:
Goal
To increase the availability of convenient bicycle and scooter parking facilities, increase pedestrian safety, and support alternative transportation ridership.