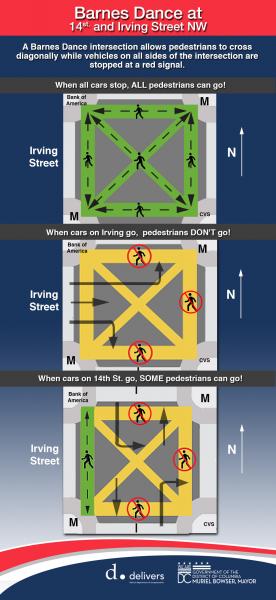 What is a Barnes Dance?
A Barnes Dance Intersection (also known as a "pedestrian scramble") operates differently than a standard traffic signal-controlled intersection and allows pedestrians to cross diagonally while vehicles on all sides of the intersection are stopped at a red signal.
Long-time residents of the District may remember intersections that traffic signals operated in a similar way in downtown DC during the 1960s and 1970s. The "Barnes Dance" is a traffic signal operation that functions differently than a standard signal operation because it allows all pedestrians to cross in any direction they want during a signal phase while all vehicle traffic is stopped. It also allows vehicles to cross in a separate signal phase while all pedestrians are stopped.
The signal operation was named (but not invented by) after the traffic engineer, Henry Barnes, who first popularized the technique in the 1950s.
The District Department of Transportation (DDOT) has two "Barnes Dance" intersections in the District. One is in Chinatown and the newest one will be installed in Columbia Heights at 14th and Irving Street NW.
Columbia Heights (14th and Irving Street NW), June 2017
The 14th Street and Irving Street, NW, Intersection was evaluated as part of the DDOT

Crosstown Multimodal Transportation Study

in 2016 and a Barnes Dance was recommended to reduce the pedestrian/vehicle conflicts in the intersection and to improve transit service in the area.

Barnes Dance signal operation is often an effective solution for intersections where pedestrians outnumber vehicles. When this imbalance occurs, a shift in the signal operation can reduce conflicts caused by turning vehicles and pedestrians as they attempt to cross the street during their designated "Pedestrian Walk" signal phase.

The Barnes Dance timing eliminates this conflict by allowing all pedestrians to cross without vehicle movements and vehicles to move without pedestrian crossings (provided all drivers and pedestrians obey their traffic signals).

After successful implementation of a Barnes Dance at 7th and H Streets, NW in Chinatown in 2010, DDOT began looking for other locations where this treatment could improve pedestrian safety and access.
See printable flyer here.
Chinatown Barnes Dance (7th and H Street NW), May 2010
The Chinatown Barnes Dance was studied and installed at 7th and H Street, NW, in May 2010

The crossing was the first-of-its-kind installed in the District. The intersection was a good candidate due to the high number of pedestrians when compared to the lower number of vehicles.

The operation of this intersection differs from traditional Barnes Dance because no turns are permitted in the intersection. Pedestrians can go with parallel vehicular traffic.

Although the District will examine additional locations for Barnes Dance, not every intersection is appropriate for this type of operation, which is most appropriate for intersections with a greater number of pedestrians than vehicles.
What to expect as a pedestrian
Obey the Pedestrian Signal to avoid conflicts with turning vehicles.

Cross only when Pedestrian Signal Indicates the Walk Signal. The Barnes Dance stops the vehicle traffic from all directions with a red signal. The "all-red, all-walk" phase allows pedestrians to cross all four main crosswalks as well as diagonally across the intersection.

Pedestrians will also notice that when vehicles have a green signal to move through the intersection, pedestrians will have Don't Walk signals across all streets. This allows vehicles to proceed through the intersection or turn without any conflicts or hazards.

Wait times for pedestrians crossing 14th Street and the east side of Irving Street will be longer to allow drivers to turn without conflicts or hazards.
What to expect as a driver?
Obey the Traffic Signal--Right Turns on Red Signals are not allowed at any time! Drivers who attempt a right turn on red will create a safety hazard for pedestrians, especially during the Barnes Dance phase.

Drive at the posted speed limit and do not block the box! This intersection is a very high pedestrian traffic area, please drive at or below the speed limit and do not block the box, as this creates hazards for pedestrians and drivers.

Eastbound Drivers on Irving Street will experience fewer conflicts due to pedestrian crossings – pedestrians will not be permitted to cross the street while drivers turn left or right onto 14th Street.
Wait times at the intersections will be longer during AM/PM Rush Hours - Drivers proceeding north and south on 14th Street may experience more delay during peak travel times because of the new "all-red, all-walk" pedestrian crossing traffic signal phase.
What to expect as a cyclist?
While cyclists may proceed on a Walk signal, they must yield right of way to all pedestrians in the intersection.

DC law allows bicyclists to proceed on a pedestrian walk signal and with vehicle traffic during a green signal phase. Cyclists may ride through the intersection on both the green signal for vehicles and on the Walk signals during the Barnes Dance all-red pedestrian phase.
Advantages and Disadvantages
A Barnes Dance provides significant convenience and safety for pedestrians. In particular, the all-red phase gives pedestrians a very high feeling of safety. Removing all turns (as in the Chinatown Barnes Dance) also eliminates the turning vehicle/pedestrian conflict that leads to nearly 25 percent of all pedestrian crashes in the District.

The main disadvantage is that it reduces the time available for vehicles to pass through the intersection. This is because the signal cycle must be split into three phases, two for drivers and one for pedestrians.

The main disadvantage for pedestrians is that because the signals cycle is split into three phases rather than two pedestrians will have to wait longer for the walk signal.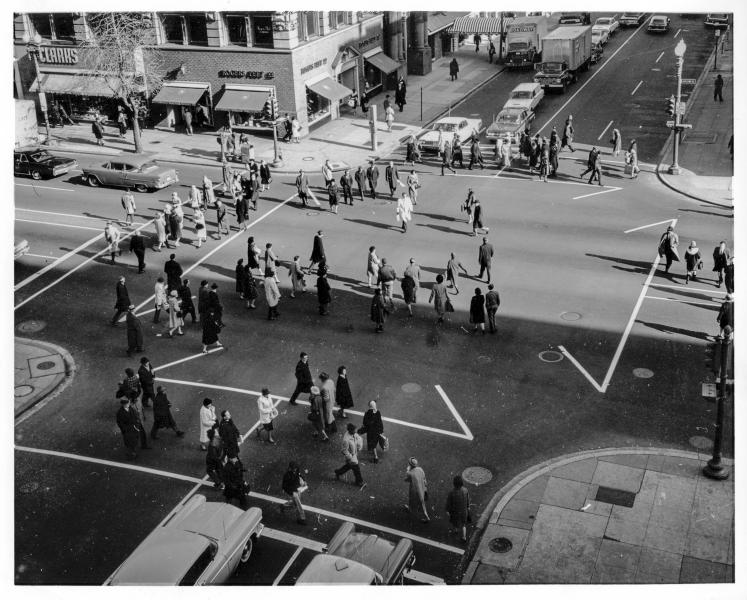 Courtesy DC Department of Highways and Traffic, dated circa 1962-63.
Program at a Glance
Program Title: Pedestrian Safety
Agency: District Department of Transportation
Office: Planning and Sustainability Division (PSD)
Type: Planning
Phone: (202) 671-2700