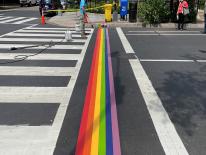 The Arts in the Right-of-Way (AROW) program facilitates art in the public realm. Examples of AROW projects include various forms of art on public amenities and facilities such as bike racks, utility boxes, and pedestrian areas.
DDOT has worked on several projects in 2019 and 2020 to incorporate art into the right-of-way through curb extensions and closing unnecessary legs of traffic that allow for ground murals.
Micromobility Corral Scooter Stencils
The Micromobility Corral Scooter Stencils are a set of preapproved designs that can be used to transform micromobility corrals into an artistic expression for the community to help further enliven their streets.
Barrier Murals
AROW supports the temporary painting of select DDOT-owned jersey barriers, subject to approval, for use in temporary outdoor table service for beautification purposes only. Any business or community organization that has an approved streatery, parklet, or other form of temporary outdoor table service can request to paint the jersey barriers protecting their outdoor dining space. See our Barrier Mural Guide.
Safety through Placemaking on West Virginia Ave NE
Want to suggest a location for the next AROW project?