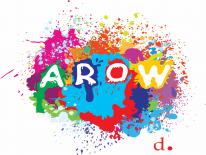 The Arts in the Right-of-Way (AROW) program facilitates art in the public right-of-way which is owned and maintained by the District Department of Transportation (DDOT). Examples of AROW projects include various forms of art on public amenities and facilities such as bike racks, utility boxes, and pedestrian areas. AROW projects can be implemented directly by DDOT or by eligible non-DDOT entities via a public space permit.
Since 2019, DDOT and non-DDOT entities have incorporated art into the right-of-way through a variety of installations listed below. Structures and markings, including artwork, on the transportation network must be permitted by DDOT. DDOT does not allow structures or markings of any kind on sidewalks or roadways that may interfere with the intended purpose and effectiveness of the transportation network.
If you are interested in a project that isn't detailed below, please fill out this Google form and the AROW team will reach out.
Traffic Control Box Beautification
Community groups can apply through the AROW program to install a vinyl wrap with art on it for any DDOT-owned traffic control box. Located at every signalized intersection, this is a great opportunity to add art to any location in the District.
Traffic Control Beautification Guidelines
Micromobility Corral Scooter Stencils
The Micromobility Corral Scooter Stencils are a set of preapproved designs that can be used to transform micromobility corrals into an artistic expression for the community to help further enliven their streets. Applicants can also apply with their own artwork. Use this form to request a micromobility corral.
Crosswalk Banners
Crosswalks banners enhance the safety and aesthetic of the District's crosswalks, which provide a safe space for pedestrians to navigate public space. DDOT installed the first Crosswalk Banners at 17th Street NW & P Street NW in June 2020 to celebrate the 50th Anniversary of Pride Week.
Murals in Closed Sections of Roadway
AROW facilitates the addition of art into roadway that has been closed to increase safety for all roadway users. Residents can apply through the AROW program to paint ground murals on any part of the roadway that has been closed to vehicles. This can include curb extensions and closed slip lanes or short blocks, as seen in the video below.
Streatery Barrier Art
As part of the ReOpen DC Reimagining Outdoor Space program, DDOT is lending jersey barriers for permitted streateries and parklets on a first-come first-serve basis. Community organizations and restaurants are encouraged to paint the barriers as part of the AROW program while used for the streatery program. Eligible applicants email a completed application form to [email protected].