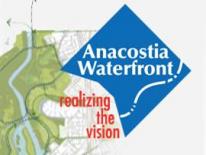 Anacostia Waterfront Initiative (AWI) Projects
The Anacostia Waterfront revitalization integrates multiple transportation, land use and economic development projects within the area surrounding the Anacostia River. Please see below for a listing of DDOT's AWI projects.
www.AnacostiaWaterfront.org
Welcome! We've created a new website for the Anacostia Waterfront Initiative and are very pleased to share with you the new and improved www.AnacostiaWaterfront.org external website.
Program Area

View Overall AWI Program Area in a larger map
Realizing the Vision
The 30-year, $10 billion Anacostia Waterfront Initiative (AWI) is transforming the shores of the Anacostia River into a world-class waterfront.
Led by the District of Columbia government and embraced by 19 regional and federal agency partners, the Anacostia Waterfront Initiative Program area External Website straddles the Anacostia River and weaves through District Wards 5, 6, 7 and 8, stretching from the Tidal Basin to the District's northeast border with Maryland.
A host of District Department of Transportation (DDOT) infrastructure projects will serve as the spine upon which this renaissance takes hold and thrives. By providing improved mobility for walkers, cyclists, transit riders and drivers, these projects will reconnect communities on both sides to the river and to each other.
See the new AWI website at www.AnacostiaWaterfront.org for complete details on AWI programs, projects and benefits.
Community Meetings and Outreach
Find out more about DDOT Projects Update Meetings.