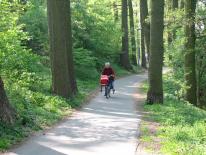 The District Department of Transportation (DDOT) is exploring the possibility of offering adaptive bicycles/tricycles as part of an Adaptive Bikeshare Pilot. The goal of the program is to establish an opportunity for individuals of different abilities and ages, to have access to a healthy and fun form of transportation.
This program would likely function as a bike/trike "library," where the user would pick-up and return their adaptive bike/trike at a specific location, such as a recreation center. Staff would be available to assist the user in adjusting the bike/trike and to provide basic instruction on its use.
Possible types of bicycles include:
Recumbent tricycles
Hand tricycles
Two person side-by-side tricycles or tandems for companion riders
Side-by-side tricycles and wheelchair bicycle tandems for companion riders
Cargo tricycles with a separate basket for bags and equipment
---
INPUT REQUESTED: Deadline March 1, 2019
Currently, DDOT is collecting data on the potential users' needs to inform future planning, equipment purchases, and staff needs.
DDOT wants to hear from you. Please answer the below survey. The survey will help us to gauge interest, determine the type of bicycles, and identify potential rental locations. The survey includes eight questions and should take about 10 minutes to complete.
You may also complete the survey by printing and mailing the copy to Kim Lucas.
Kim Lucas
Manager, Sustainable Transportation Branch
55 M Street SE, Suite 500
Washington, DC 20003
[email protected]