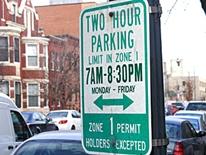 The Residential Permit Parking (RPP) program was established in the 1970s to protect neighborhoods and ensure residents could find parking on their blocks. The RPP program limits on-street parking to participating residents living on designated blocks, and parking is limited to two hours during the hours of operation for those vehicles without the appropriate zone RPP sticker.
This a jointly administered program provided by the Departments of Transportation, Public Works, and Motor Vehicles.
Citizens have successfully petitioned to have more than 4,100 residential blocks included in the program. You can search for streets that have been set aside for permit parking at Residential Permit Parking Block Data Inquiry.
To use this feature, please enter a street name. You do not have to enter a ST or AVE suffix. You can enter a partial or complete street name. Block and ward numbers are optional but they can help narrow your search.
If your street is not on the list, you can petition DDOT to initiate a permit parking program.
Goals
To ensure District residents have access to parking near their homes.
Program at a Glance
Program Title: Residential Permit Parking
Agency: District Department of Transportation
Office: Planning and Sustainability Division (PSD)
Type: Administrative
Related Documents