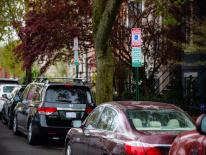 2021 Visitor Parking Pass Update: CThe 2020 Annual Visitor Parking Passes will remain valid District-wide until September 30, 2021. More information is available here.
---
About the Parking Pass Program
The Visitor Parking Pass (VPP) program is designed to allow guests of District residents to park for more than two hours on Residential Permit Parking or RPP-zoned blocks. A VPP is only valid during the hours of RPP enforcement and in the same RPP zone and ANC boundary as the residence. The passes are not necessary on holidays or other times when parking restrictions are not subject to enforcement.
The VPP can be used to provide temporary Residential Permit Parking (RPP) privileges in the following eligible wards:
Ward 1 - all Ward 1 residents
Ward 2 - 2F only. All other Ward 2 ANCs have opted out of the program.
Wards 3, 4, 5, 6, 7 and 8 - all residents that live on RPP blocks
Residents who live on a commercial zone block are not eligible for VPP or RPP. Non-residential address types are not eligible for VPP/RPP.
---
DDOT Extends 2020 Visitor Parking Passes into 2021
(Washington, DC) – Today, the District Department of Transportation (DDOT) announced that residents should continue to use the existing 2020 Visitor Parking Pass (VPP) into 2021. The District plans to launch a streamlined digital parking permit program in 2021.
The VPP program allows District residents to register for an annual pass that is used for guests to park for more than 2 hours on Residential Permit Parking or RPP-zoned blocks.
Residents who are new to the District or need a replacement VPP (due to damage or loss) should visit their local Metropolitan Police Department precinct to request a temporary parking pass instead of a VPP.
Beginning in March 2020, and continuing for the duration of the public health emergency, the District has suspended enforcement for the following infractions:
Expired residential parking permits and visitor parking permits/passes
Expired District license plates and inspection stickers
Expired meters
A complete list of modifications to District operations is available at coronavirus.dc.gov/page/stay-home.
For more information, please visit ddot.dc.gov or call DDOT Customer Service at 202-671-2700.
---
How to Check for Eligibility