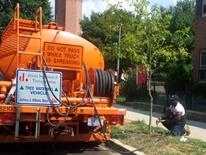 Tree irrigation needs change over time. The amount of irrigation your tree will need can be affected by tree age, root damage, time of the year, weather and soil conditions, and species type.
New Trees
Pour 5 gallons of water, slowly, a few inches away from the trunk. This is very important during hot, dry weather.

Continue watering as needed until the ground is frozen.

Resume watering when new leaves appear in the spring.

Do not over water. Test the soil with your finger. If it is wet, do not water the tree
Mature Trees
Mature street trees in planter boxes cannot be watered because their feeder roots that intake water and other nutrients are not accessible.

Saturate 18-24" into the root system of mature trees at least once a month in the summer months.

Instead of watering near the trunk on mature trees, target the feeder roots that begin halfway between the trunk and the drip line (edge of leaf canopy) to about 10-15 feet beyond the drip line.

Avoid frequent, light applications of water because they encourage shallow roots that are more susceptible to the stresses of summer heat.

The best means of watering mature trees is with permanent soaker hoses (ideally under mulch), temporary soaker hoses, or a sprinkler that is moved to cover the entire watering area.
Courtesy of www.canopy.org
Goals
Watering can greatly assist in maintaining tree health, especially during drought periods.
Program at a Glance
Program Title: How to Water Trees
Agency: District Department of Transportation
Office: Urban Forestry Administration (UFA)
Type: Outreach and Education
Phone: (202) 671-5133
Website: DDOT Urban Forestry