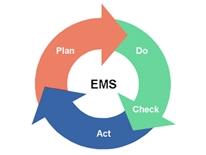 An Environmental Management System (EMS) is a management system that focuses on incorporating environmental considerations in business practices. In simple terms an EMS is a way of incorporating environmental thinking into an organization's daily activities.
The District Department of Transportation (DDOT) considers itself an active steward of the environment and is committed to environmental excellence. In order to fulfill its responsibilities as a steward of the environment the DDOT leadership decided to develop and implement an Environmental Management System (EMS). EMS development and implementation was started at DDOT to help DDOT in:
Protecting the environment
Preventing pollution
Using resources efficiently
Improving environmental performance
Enhancing compliance
Reducing risks
Increasing efficiency
Reducing costs
Conducting operations in an environmentally sustainable manner
Enhancing image with public, stakeholders, and other agencies
Improving employee awareness of environmental issues and responsibilities
Creating an Environmental Excellence Focused Culture at DDOT
EMS at DDOT has been developed by following the ISO 14001 structure. EMS at DDOT is being implemented in phases. The scope of the first phase of the EMS at DDOT is:
DDOT Project Development & Review
Transportation Policy and Planning Administration (TPPA) Office Operations
Goals
To be an active steward of the environment with a commitment to environmental excellence.
Program at a Glance
Program Title: Environmental Management System
Type: Planning and Strategy
Related Documents
DDOT Environmental Management System (EMS) Implementation Guide