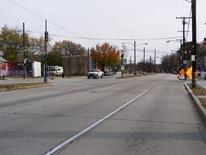 This Project will transform Nannie Helen Burroughs Avenue, NE between Minnesota and Eastern Avenues by enhancing the appearance of the neighborhood and improving pedestrian accessibility, mobility and overall safety for community residents and roadway users.
The design will improve mobility through the integration of continuous sidewalks, curb extensions (also known as bulb-outs) and bicycle lanes. Nannie Helen Burroughs Avenue will be reconfigured into a single lane configuration to allow for traffic calming. New upgraded traffic signals will be installed at 44th, 49th, 55th and 58th Streets including Division Avenue.
Other features include landscaped medians and additional sidewalk lighting. Design upgrades will also be made to the storm-water infrastructure to allow for the reduction of pollutants from the street run-off. Construction for this project is slated to be completed by March of 2012.
This project is funded in part by the American Recovery and Reinvestment Act (ARRA).
DDOT Project Manager: Charles Umezurike
Field Office Phone: (202) 907-9475 or (443) 889-6761
Email: [email protected]
Website: ddot.dc.gov
Project at a Glance
Project Title: Nannie Helen Burroughs Project
Providing Agency: District Department of Transportation
Office: Infrastructure Project Management Administration (IPMA)
Status: Progress
Type: Renovation/Modernization
Start Date: November 19, 2010
Target End Date: March 01, 2012
Estimated Budget: $9.8 M
Location: Nannie Helen Burroughs Avenue, NE between Minnesota and Eastern Avenues
Phone: (202) 525-3637