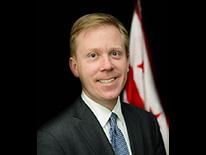 Leif A. Dormsjo was appointed Director of the District Department of Transportation (DDOT) by Mayor Muriel Bowser in January 2015.
DDOT is responsible for the highway design and construction, traffic signal control, public space regulation, urban forestry, streetlight management and on-street parking operations in the District. Other programs include Capital Bikeshare and DC Circulator. Dormsjo oversees an annual budget over $500 million and DDOT employs more than 900 people.
During his tenure at DDOT, Director Dormsjo successfully launched the first streetcar line in the District in 50 years, led the interagency Vision Zero safety initiative to eliminate fatalities and serious injuries by 2024, and implemented "TranStat," a performance reporting and process improvements program using a data-driven approach.
Dormsjo represents the District of Columbia on the Washington Metropolitan Area Transit Authority (WMATA) Board of Directors and also serves on the Board of the Union Station Redevelopment Corporation.
He holds a bachelor's degree from Wesleyan University and a master's degree in public policy from Harvard University's Kennedy School of Government, with a concentration in transportation policy and urban affairs.
Before DDOT, Dormsjo was Deputy Secretary of the Maryland Department of Transportation.