The District Department of Transportation (DDOT) installed bus lanes on Martin Luther King (MLK) Jr Ave SE as a pilot project in response to the COVID-19 pandemic in the Fall of 2020 to relieve crowding on board buses and at bus stops. In January 2021, DDOT initiated the MLK Jr Ave Bus Priority project to evaluate the bus lanes' impact, follow-up on the community engagement, and develop further improvements on that pilot. MLK Jr Ave SE is also part of the Vision Zero high injury network, so this planning project was also focused on improving safety in addition to bus speed and reliability.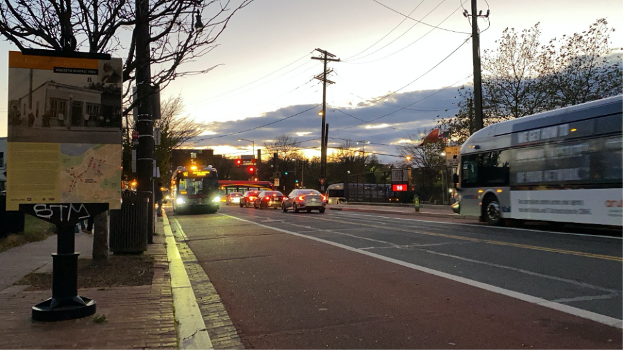 As with all DDOT Bus Priority projects, this planning effort began with a needs assessment to determine the cause of bus delays and traffic crashes in the corridor. This included an analysis of traffic and bus operations and reaching out to the public for feedback. To collect public feedback, DDOT canvassed the corridor, surveyed business owners, tabled at Anacostia Metro Station, and made the following presentation to ANC 8A in June 2021:
June 2021 Meeting Presentation
DDOT developed two alternatives to address the deficiencies identified in the needs assessment and introduced those options to the public beginning in September 2021. Below is a presentation from a virtual public meeting on September 14, 2021, which provides details on alternatives that were proposed for Martin Luther King Jr. Avenue SE:
September 2021 Meeting Presentation
The agency recommends the advancement of a "hybrid" concept that combines aspects of both alternatives for design and construction. DDOT sent a letter to community members and leaders on May 3, 2022, that provides details of the recommended alternative: MLK Jr Ave SE - Bus Priority Concept Selection Letter
Notice of Intent
DDOT has already begun implementation of the bus stop relocation part of the project through a Notice of Intent (NOI) that was sent to ANC 8A on December 17, 2021, and the corresponding comment period closed on February 2, 2022. All comments that were received during this period supported the bus stop relocation.
NOI# 21-269-TDD - Bus Stop Rebalancing and Relocation on Martin Luther King Jr Ave SE
This project will:
Evaluate the operations of the existing bus lanes
Identify ways to improve bus service, access to bus stops, and safety along the corridor
Seek input from the community