New Parking Meter Rate Schedule in Penn Quarter/Chinatown
Beginning Monday, August 5, 2019, there will be a new parking meter rate schedule in the Penn Quarter and Chinatown neighborhoods. The parking meter rate adjustment is part of a project to improve parking availability through demand-based pricing. The project includes all metered on-street parking spaces within the area bounded by H Street NW, 3rd Street NW, E Street NW and 11th Street NW.
For spaces in the pilot area, parking meter rates on individual block faces will be adjusted to one of twelve prices: $1.00/hour, $1.50/hour, $2.00/hour, $2.30/hour, $2.75/hour, $3.25/hour, $4.00/hour, $4.75/hour, $5.50/hour, $6.00/hour, $6.50/hour or $7.00/hour. Prices are also different depending on the time of day. On weekdays, there are three periods: 7 am – 11 am, 11 am – 4 pm, and 4 pm – 10 pm. On Saturdays, the rates will be the same all day. The maps below show what the prices will be on each block in the study area during each time period.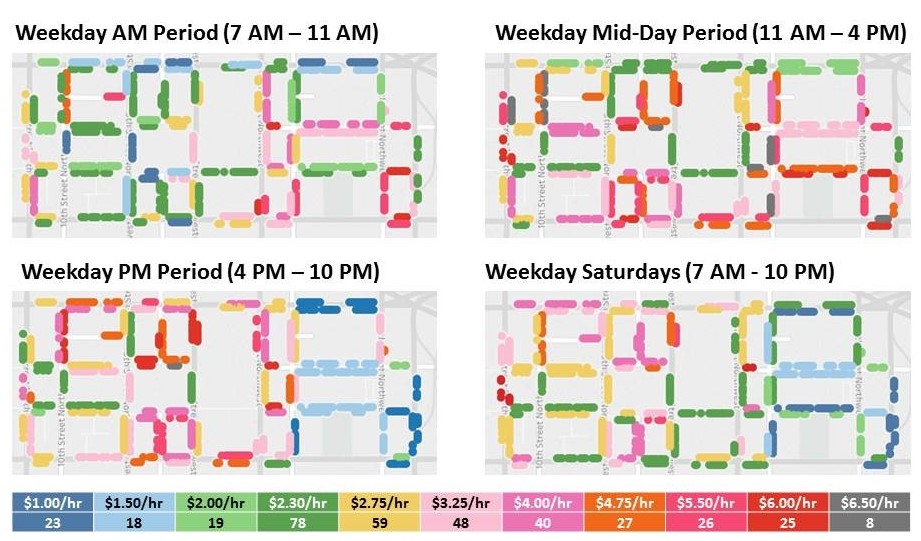 Pay-by-Space Parking
Approximately 1,000 on-street parking spaces in the Penn Quarter and Chinatown area are now clearly numbered, with new payment kiosks and no need to display receipts on dashboards.
Here's How To Park and Pay:
Park in a numbered space defined by the new space marker posts.
Get your 4- or 5-digit space number from the space marker.
Pay for your parking time by entering the space number at the curbside payment kiosk or entering the zone and space numbers on your mobile device using Parkmobile.
Be on your way! No need to display a receipt on your dashboard.
Pay-By-Space is available on streets around the Capital One Arena, National Portrait Gallery, National Building Museum, MLK, Jr. Library and Ford's Theater, between E Street and H Street, NW, and 3rd Street and 11th Street, NW. It includes approximately 1,000 parking spaces.
Pay-By-Space Frequently Asked Questions
For more information or if you have questions, call (202) 671-2700 or 311.