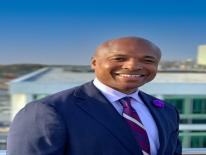 Everett Lott is the Director of the District Department of Transportation. He brings more than 28 years of experience in administration, including human resources, budget and finance, grants, labor and employee relations, and facilities management. Prior to joining DDOT, Everett worked for the Federal Highway Administration as the Senior Advisor for Shared Services within the Office of Administration. He was appointed to the Senior Executive Service (SES) in 2016 as the Associate Administrator for Administration for the Pipelines and Hazardous Materials Safety Administration (PHMSA). Prior to his appointment to the SES, Everett was part of the leadership team at the Health Resources and Services Administration (HRSA) in the HIV/AIDS Bureau as the Director of the Office of Operations and Management. Everett also has worked for the District government. He previously served as the Acting Budget Director for the District of Columbia Public Schools, Senior Manager in the Executive Office of the Mayor, and as Deputy Director/Chief of Staff in the District's emergency 911 communications center.
Everett earned his B.A. and M.A. from Texas Tech University and completed additional graduate work at Harvard University. He is also a graduate of the Federal Executive Institute's Leadership for a Democratic Society.
If you have an inquiry, please submit it through the Ask the Director web form.