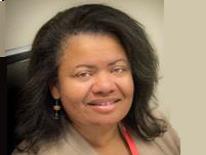 .Suzette Robinson is DDOT's Chief Operations Officer, managing DDOT's administrations and divisions responsible for maintenance, traffic operations, urban forestry, parking and ground transportation, and public space regulation
Ms. Robinson is the former Director of Public Works for the city of Evanston, Ill. She was with Evanston for more than nine years—first as the Superintendent of Streets and Sanitation, and later as the Director of Public Works. Ms. Robinson provided administrative management overseeing more than 120 staff members, a general fund budget of $17.5 million and a capital budget of more than $30 million. Her responsibilities included streets, engineering, transportation, fleet, forestry, facilities, park maintenance and sanitation.
Before Evanston, Ms. Robinson held management positions in Indianapolis and Detroit. She is designated as a Public Works Fellow by the American Public Works Association in recognition of her more than 20 years of experience in public works management. She has received accolades from the association for her commitment to sustainability and youth. Ms. Robinson has a bachelor's degree in physics and a master's degree in management. She is also a commander in the Navy reserves.