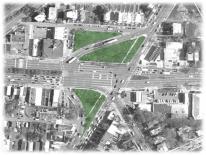 The Federal Highway Administration (FHWA) and the District Department of Transportation (DDOT), in cooperation with the National Park Service (NPS) and the National Capital Planning Commission (NCPC), have prepared an Environmental Assessment (EA) for the Pennsylvania Avenue-Minnesota Avenue, SE Intersection Improvement Project. The EA analyzes a range of alternatives for the proposed action to improve safety, mobility, and connectivity for pedestrians and motorists at the intersection of Pennsylvania and Minnesota Avenues, SE (i.e., Twining Square) in keeping with the District of Columbia's Great Streets Initiative.
The EA was prepared in accordance with the National Environmental Policy Act of 1969 (NEPA) and implementing regulations. Consultation was conducted in accordance with Section 106 of the National Historic Preservation Act of 1966 (NHPA), and Section 4(f) of the Department of Transportation Act of 1966.
On June 10, 2015, DDOT's Director Leif Dormsjo signed the Final EA for the Pennsylvania Avenue/Minnesota Avenue, SE Intersection Improvement project. On June 17, 2015, the FHWA Division Administrator, Joseph C. Lawson, approved and signed the document. In accordance with the NEPA, the Division Administrator also signed the decision document, which is a Finding of No Significant Impacts (FONSI) because none of the impacts from the project met the Council of Environmental Quality (CEQ) criteria for context and intensity to rise to the level of "significant" as defined by CEQ. The Final EA and FONSI may be downloaded from the links below.
In order to meet the purpose and need for the project, FHWA and DDOT, in cooperation with NPS, through the results of environmental analyses and input from the public and other agencies, selected Build Alternative 2: Conventional Intersection as the Preferred Alternative. The following are the features of Build Alternative 2 that made it practical for the selection as the Preferred Alternative for the project.
| | |
| --- | --- |
| Vehicular Operations: | Advantages: |
| Consolidates multiple traffic movements to one signalized intersection at Pennsylvania and Minnesota avenues. | Consolidates green space into usable park space. |
| Eastbound Pennsylvania Avenue traffic bound for northbound Minnesota turn left at the signalized intersection. | Improves pedestrian safety at heavily used bus transfer location. |
| Westbound Pennsylvania Avenue traffic can turn left to go southbound on Minnesota Avenue. | Shifts through-traffic away from residential area, discourages cut-through traffic along L'Enfant Square and increases on-street parking. |
| Minnesota Avenue is converted to two-way operations through the intersection. | Corner bulb-outs added to shorten crosswalks, protect parked vehicles and reduce traffic impact caused by bus pullovers. |
| Direction of L'Enfant Square is reversed and is reduced to a one-lane local roadway. | |
| Access to 25th Street remains the same as current conditions. | |
Contact: Austina Casey, Project Manager, at [email protected]
Related Documents
Historical Documents