PARK(ing) Day DC 2014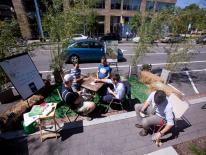 PARK(ing) Day will return to the District of Columbia on Friday, September 19, 2014, from 9 am to 3 pm! District residents and businesses put their creativity on display for last year's event, building 20 pop-up parks in curbside parking spaces
Initially created by the San Francisco design studio Rebar, PARK(ing) Day is an event in which residents and businesses re-think how we use public space by converting metered on-street parking spaces into temporary parks. Since its inception in 2005, the event has spread to cities around the world, taking place on the third Friday of September.
Apply for a Park(ing) Day permit through DDOT
For this year's event, DDOT has designed a process for applicants to obtain a permit using the Transportation Online Permitting System (TOPS). Applicants should familiarize themselves with all the event requirements before designing their park or beginning the permitting process.
The deadline to apply for PARK(ing) Day 2014 is Friday, September 5. All applications must be submitted to TOPS by that time to be considered.

Before sketching out a design for your own pop-up park, please read over the
event guidelines and requirements
. After finalizing your design, instructions on how to apply through DDOT's Transportation Online Permitting System (TOPS) can be found
here
.
Map
Here's a map of approved pop-up parks on display at this year's Park(ing) Day on September 19.
Below is a list of the approved pop-up parks in the District of Columbia.
| | |
| --- | --- |
| Company | Address |
| Zipcar | 2221 I STREET NW |
| baked & wired | 1050 THOMAS JEFFERSON ST., NW |
| Gensler | 2020 K STREET NW |
| Urbanful | 1723 K STREET NW |
| Georgetown BID | 1211 POTOMAC STREET NW |
| Georgetown BID | 1034 33RD STREET NW |
| Office of the State Superintendent of Education | 810 1ST STREET NE |
| goDCgo | 1201 G STREET NW |
| DC Department of Parks and Recreation | 1250 U STREET NW |
| Golden Triangle BID | 1730 PENNSYLVANIA AVE., NW |
| DC Water | 1227 WISCONSIN AVENUE NW |
| ACE Hardware | 1055 5TH STREET NW |
| Alba Osteria | 425 EYE STREET NW |
| NoMa BID | 1ST STREET NE & PIERCE STREET NE |
| BicycleSPACE | 1019 7TH STREET NW |
| NoMa BID | 1100 1ST STREET NE |
| | |
| --- | --- |
| Council of the District of Columbia | 1350 PENNSYLVANIA AVENUE NW |