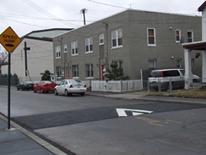 The District of Columbia is committed to reducing the negative impacts of traffic and to ensuring the overall safety and livability of residential neighborhoods. The use of speed humps can reduce the negative effects of motor vehicle use, alter driver behavior, and improve conditions for pedestrians and non-motorized street and roadway users.
In order to meet the demand for traffic calming on residential "local" Streets, DDOT has developed guidelines for responding to requests from individuals, community groups, and ANCs. Speed humps may be installed upon receipt of a petition in which residents endorse the measure with at least seventy-five percent (75%) support of the households in the candidate block or street segment.
This document identifies criteria to be used in determining if and when the installation of speed humps is warranted. The document also outlines the mandatory neighborhood (residents') support needed for approving installation of speed hump(s).
Goals
To reduce the negative effects of motor vehicle use.
Program at a Glance
Program Title: Speed Hump Request
Agency: District Department of Transportation
Office: Policy, Planning and Sustainability Administration (PPSA)
Type: Administrative
Related Document