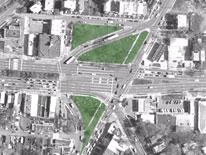 The Federal Highway Administration (FHWA) and the District Department of Transportation (DDOT), in cooperation with the National Park Service (NPS) and National Capital Planning Commission (NCPC), have prepared an Environmental Assessment (EA) for the Pennsylvania Avenue-Minnesota Avenue, S.E. Intersection Improvement Project. The EA analyzes a range of alternatives for the proposed action to improve safety, mobility, and connectivity for pedestrians and motorists at the intersection of Pennsylvania and Minnesota Avenues, S.E. (i.e., Twining Square) in keeping with the District of Columbia's Great Streets Initiative.
The EA was prepared in accordance with the National Environmental Policy Act of 1969 (NEPA) and implementing regulations. Consultation was conducted in accordance with Section 106 of the National Historic Preservation Act of 1966 (NHPA), and Section 4(f) of the Department of Transportation Act of 1966. Download the Enviromental Assessment Report.
The EA was released to the public on October 28, 2013. Following the release of the document, in cooperation with the FHWA, NPS, and NCPC, DDOT hosted a public hearing for the EA on November 13, 2013. The comment period for the document ended on December 31, 2013. DDOT is currently addressing the comments received on the EA and preparing a Final EA. After completion of the Final EA, FHWA will issue a decision document on the project.
The project was presented at the Projects Update Meeting for Ward 7 on March 6, 2014, hosted by DDOT.
Contact: Austina Casey, Project Manager
Related Documents