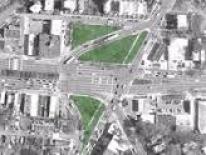 View a list of all printable DDOT maps [PDFs]

DDOT's Public Space Occupancy Map
This map shows existing construction projects, emergency utility work and special events. The icons represent activities temporarily affecting public space, which display various details when selected. For example, public space permit numbers and beginning and end dates for a project or special event. This allows users to examine activities in greater detail. Data for the map is pulled from DDOT's Transportation Online Permitting System (TOPS) and ProTrack (DDOT project tracking) databases.
Commercial Use of Public Space
This map shows the commercial use of public space for businesses such as food and merchandise vendors, farmers' markets, valet staging, sidewalk cafes and food trucks.
Snow Response Reporting System
Find a DC location using a method in the link. Select the matching location from the list to show DDOT snow AVL status. Find out where has been plowed and salted.
View open work orders for the Urban Forestry Administration.
An interactive map showing the FY13 PCI scores for Washington, DC
Map Archives
Residential Permit Parking Map
Residential Permit Parking blocks mapped in the Advisory Neighborhood Commissions in all eight wards, 2014.
Bicycle and Pedestrian Collisions Ward Map 1997-1999
Pedestrian and bicycle collisions mapped by all eight wards in the District from 1997 to 1999.
Bicycle Crash Concentrations Map 1997-1999
Bike crash concentrations mapped from 1997 to 1999.
DDOT works hard at making the District of Columbia one of the most bicycle-friendly cities in the country (dimensions 24x36", 2 pages).
Bikeshare DC Crowd Sourcing Map - July 2010
Bikeshare DC Crowd Sourcing Heat Map.
Bikeshare DC Planning Analysis Map - July 2010
Bikeshare DC Planning Analysis Map.
Bikeshare DC Proposed Locations Map - July 2010
Bikeshare DC Proposed Locations Map.
Capital Bikeshare Locations Map - July 2011
Starting in summer 2011, DDOT expanded the current system with 25 new stations and 250 new bikes.
Recommended Commercial Vehicle Bridge and Tunnel Clearances Map
Commercial Vehicle Recommended Bridge and Tunnel Clearances Map.

Columbia Heights Performance Based Parking Pilot Zone Map.
DC Central Business District - No Bike Riding Map on Sidewalks Downtown
Map of the DC Central Business District where bike riding on sidewalk is not permitted downtown.
Frederick Douglass Memorial Bridge restriction map and alternative routes for commercial vehicles weighing 10 tons or more.
The Functional Classification System is used to identify roads, streets, and highways that are eligible for federal funds.
High Accident Intersections Map, 2009.
K Street Transitway areas map.
Map of street steel plates for year 2010.
Archive of Traffic Volume Maps 2002 - 2011
The DC Traffic Volume Map depicts the Annualized Traffic Volume at various locations of the District's roadways.
The Ward boundaries shown on these maps were approved by the Council June 21, 2011 and went into effect on Jan 1, 2012.