Disability Parking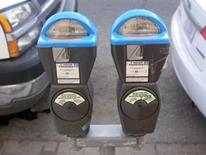 The District offers several programs intended to ensure on-street parking is accessible to residents and visitors with disabilities.
Red-Top Meters
The red-top meter program is not currently being enforced. Anyone can park at a red-top meter. Persons with disability placards or tags do not have to pay. When the program rolls out, then only individuals with disability placards and tags can park at red-top meters and they will have to pay.
Reserved On Street Parking for Residents with Disabilities
Residents with disabilities who live in a single family dwelling and meet certain other requirements can apply to have an on street parking space reserved for them.
To get more information on this program and to apply for a reserved space please contact parking.ddot@dc.gov.
ADA Accessible Meters and Spaces for Persons with Disabilities
The District Department of Transportation is currently designating two ADA-accessible parking meters for every block face that is governed by parking meter equipment. These meters are designated by a blue dome and signify that they are compliant with the following criteria.
Accessible Parking Meter and Accessible On-street Parking Meter shall mean a parking meter with the following characteristics:
All operable parts, including but not limited to slots for payment, no higher than 48" from the ground.

The operable parts and meter face directed at an accessible route.

A box of ground space free of obstacles and measuring at least 30" x 48" aligned for forward or parallel approach to the operable parts and meter.
All new meter installations, multispace metering devices and new metering technologies employed by the Department will be accessible by persons with disabilities.
These spaces are not reserved for use only by persons with disabilities. They are simply marked in a manner that easily identifies them as being compliant with the ADA requirements.
Disability Parking Permits and Tags
Disability parking permits, placards and vehicle tags are offered by the DC Department of Motor Vehicles (DMV).
Application for Disability Parking Placard or Tags (DMV)
Related Information
Parking Decals and Permits for Vehicles Used by Persons with Disabilities (DMV)
Related Service
MetroAccess - The Washington Metropolitan Area Transit Authority (WMATA) is an independent organization. This website link is made available as a public service.