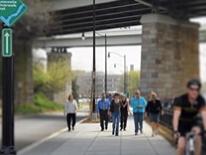 Project Overview
The Anacostia Riverwalk Trail serves as a backbone of the Anacostia Waterfront, connecting residents, visitors and communities to the river, one another and numerous commercial and recreational destinations.
Once complete, the trail will provide seamless, scenic travel for pedestrians and bicyclists along the river to the Fish Market, Nationals Park, Historic Anacostia, RFK Stadium, the National Arboretum and 16 communities between the National Mall at the Tidal Basin and Bladensburg Marina Park in Maryland. To date, 12 of the ultimate 20 miles of the Riverwalk Trail are open and heavily used.
In Spring 2012, two new portions of the trail opened:
Maine Avenue which better connects the Tidal Basin to the Fish Market/Southwest Waterfront
The western of two bridges over railroad tracks along either side of the Anacostia River just north of the John Philip Sousa Bridge. Both bridges have fiber reinforced polymer decks, which will extend their life while reducing long-term maintenance costs and environmental impacts.
Opening of the second bridge east of the river, now anticipated in Spring 2013, will complete trail connections on both sides of the river from South Capitol Street to Benning Road.
Design of the Kenilworth Aquatic Gardens segment, which will extend the trail from Benning Road to the Bladensburg Trail in Maryland, is to conclude in 2012 with construction scheduled to begin in Spring 2013.
Other segments that will complete the Riverwalk are to be constructed as part of the South Capitol Street Corridor, Buzzards Point and Oxon Run projects, various partner development projects or, in the case of the Arboretum segment, by the National Park Service.
Key design elements throughout the trail include the following:
Inclusion of rain gardens and bioswales
Installation of shared-use paths and educational signage
Enhancement of trail viewsheds to bring users closer to the water's edge
Minimize impacts of paving on other trail infrastructure on the natural environment.
Milestones
Open Maine Avenue, March 2012
Open West FRP Bridge, April 2012
Complete Design of Kenilworth Gardens, Winter 2012
Open East FRP Bridge, Spring 2013
Advertise Kenilworth Gardens for Construction, Spring 2013
Begin Construction of Kenilworth Gardens, Summer 2013
Complete Construction of Kenilworth Gardens, Spring 2015
Investment
$50 Million
Ongoing and updated information can be found at the website below: