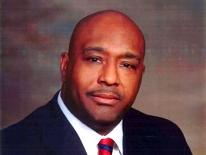 Jeffrey H. Powell is the Associate Director for the Public Space Regulation Administration (PSRA).He oversees the management of the Public Space Permitting office and Inspections for the District of Columbia. PSRA oversees all private users of public space from developers to construction firms, as well as those requesting special events, sidewalk cafés and valet parking. The permitting office issues more than 20,000 permits and provides face-to-face customer service to 15,000 residents per year; annually performs 65,000 inspections; and generates more than $10 million in revenue for the District of Columbia.
A native of Roanoke, Va., joined DDOT as Chief of Staff in 2009.Powell brings more than 22 years of municipal and public sector experience to DDOT. He began his career with Pacific Bell in the Executive Development Program in Los Angeles, Calif. He returned to the East Coast with Verizon in its Accelerated Management Program, managing in the Special Services Division and Customer Service Division. He left the private sector to join the City of Richmond's Department of Utilities, where he served in several operations, customer service, and staff assignments. He would also work with the Department of Public Works as a Solidwaste Manager. In 2002, he returned home to serve as a General Service Director for the City of Roanoke, Va. Powell has worked as the Public Works and General Service Director for Richmond, Va., Assistant to the City Manager in Chesapeake, Va., and Assistant City Manager in Fayetteville, NC. He has also taught management, marketing plan development and business plan writing on the collegiate level.
Powell currently holds a bachelor's degree from Virginia State University and a master's in business administration from Howard University.